Kylee's Commissions...

If you've been wandering through here and want to commission me, here's the necessary info on what I do, what I do it with, what I charge, and where I am.
8.5 x 11 white 80 wgt.
Vellum cardstock
One image with some background
Soft erotica okay
Delivery averages 2 to 4 weeks
*Pencil and ink will cost the same due to the detail rendered in pencil.
Status: Accepting (not for long)
New! Base cost $50.00 plus $4.20 shipping ( %50 of price down for deposit)

Due to high demmand base cose is now $50/per commission. Kylee is nearing his limit fast for accepting commissions. If you want a commission done, order it now...
I (artist) retain rights to make prints unless otherwise requested when a commission is ordered (see below). If requested that I may not make prints, I MAY at my option charge a higher price.

More elaborate work available on request
E-Mail: Kylee100@hotmail.com

When you apply for a character please include the information in your e-mail on what you want your character I draw to look like. An example of information I can use is as follows: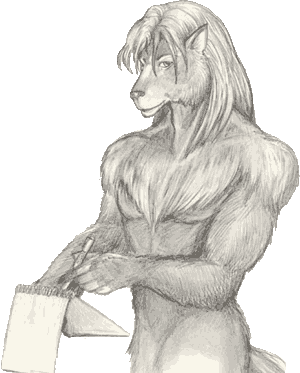 Your real name
Your character name
1.Gender
2.Race
3.Hair/style/etc
4.Eye color
5.Weight
6.Height
7.Skin, fur, scale color etc.
8.Markings/scares/stripes/etc.
9.Oramentation/clothing/etc.
10.Equipment/knives/swords/guns/etc.
11.Mood/happy/sad/etc.
12.Stance/how you want your character posed
13.Items held/if the character is holding something
14.Background if any

Including these details will help you get the drawing you want.
Mail submission to: Kylee100@hotmail.com or use my auto submission form below:

Automatic Character Commission Form
Snail mail address:
Kyle Sarrif
P.O. Box 671
Xenia, OH 45385

*** = Character Copyrights
Copyright of the interpretation of your character belongs to me. The basis is that even though it's your character, it's my interpretation. Although I will not make or sell prints without your permission if requested. You own the original piece not the copyright. Credit will be given you on every piece if you allow me to make prints. I do reserve the right to make prints even with character pieces unless informed otherwise. It is unlawful for you to make copies and sell pieces of my original work. You must get permission from me to sell or distribute the image as well, in which royalties and contract will be involved. Nothing will prevent either of us from making copies for ourselves to keep.
**I usually don't mind you sharing and posting on the internet the art I do for you, as long as I get credit for the art and you get prior permission. If you have any questions just ask. For more on copyrights and a explanation of copyright law go to:
http://icweb.loc.gov/copyright
on the internet.
Click Here or Bellow to enter Kylee's incredible world in Art...


Art by Kylee Web layout and quotes by WhiteShepherd. Page problems/questions? Email: WhiteShepherd